Welcome to Norfolk!
Our town crew provided us with these large granite  stones which will act
as a retaining wall for the welcome-to-Norfolk gardens which will be
planted this summer. All this is coordinated by Association volunteers
Marie Lowe and Christina Vanderlip.
Just in time for Memorial Day: Karl Munson, stone restoration expert, gives a discerning look
at his work on the steps of the Alfredo Taylor WW1 Memorial which for many years were in total
disrepair. Thanks to local support given to the Norfolk Community Association's Monuments
Restoration Project the entire monument will be restored for this year's 100th Anniversary.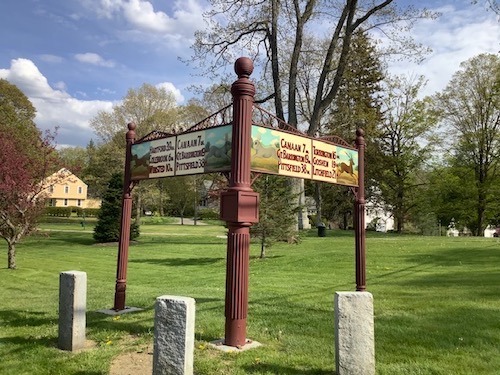 May 16, 2021: Back in all its glory is our unique-to-Norfolk fully restored hand painted sign.
Thank you, Madeline Falk. Thank you Norfolk town crew. Thank you Norfolk Community
Association donors.
May 10, 2021: Norfolk's Town crew members Joe Green and Tom Gorski reinstalled our unique
hand painted directional sign on the Village Green just in time for Spring. The Norfolk Community
Association funded the project and local artist Madeline Falk did a magnificent restoration over
the winter. Luckily, the sign was already down last Fall when a vehicle slammed into the site
while swerving to avoid a bear! Next time you're on the Village Green, take a closer look. This
charming facsimile of the original is a Norfolk must-see.

Something is missing in Norfolk. Our beautiful hand-painted sign on the Village Green
is out being restored by local artist Madeline Falk. Look for its return soon.
The NCA is the funding the restoration of the steps leading down to the WWI monument 
on Memorial Green. Once they are complete, historic preservation work on the actual 
Alfredo Taylor monument will begin.
Replacement of these eight formerly magnificent evergreens on Memorial Green 
is in the NCA's plan for 2020. The Memorial Green will once again be a visually welcoming 
public space in Norfolk.
The NCA is planning to re-light the famous Alfredo Taylor railroad lanterns this year. 
Look for them on an evening stroll around the Village Green in the coming months.
In 2020, the NCA once again celebrated Memorial Day with this fitting flag display 
as a tribute to Norfolk's fallen heroes.